Ref:
Date:
Location:
Photographer:
[clikcontent type=paymentBuyLink replaceable=true]
Ref:
Date:
Location:
Photographer:
[clikcontent type=paymentBuyLink replaceable=true]
About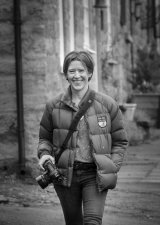 Captivated, from a young age, by the documentary work of James Ravilious in 1970s and 80s North Devon, Lucy took over thirty years to follow her ambition of being a documentary photographer. Her current personal work, Of Life and Land, centres on stories of every day life around her home village in rural North Yorkshire. Lucy is inspired by the sense of permanence and rootedness resulting from the deep layers of connection and shared history both within a community, and between people and their landscape. Working in black and white to focus on composition, texture and light, she also feels this helps bring us closer to the timeless essence of a scene. She would like her work to open our eyes to the reassuring, simple beauty inherent in the unending rhythms of our daily lives, if only we can give the time to see it.
"Swim around in these deep, deep photographs and then look around your own street, your own village, your own neighbourhood and try and find the timeless stories there because in the end none of us, as Lucy Saggers proves, are very far from the centre of things." Ian McMillan in his foreword to Of Life and Land.
Lucy has exhibited regionally and nationally, including at the
Mall Galleries
as a finalist in the
Pink Lady Food Photographer of the Year Award
2015 and 2016; at the
Prince's Foundation
as Winner of Craft Photographer of the Year 2015.
In 2015 her work was selected for the second round of the
National Portrait Gallery
Taylor Wessing Photographic Portrait Prize. In 2017 Coconut slice, was Highly Commended at the
Bowes Museum
's 'Only in the North' alongside the Tony Ray Jones & Martin Parr exhibition. In 2018 five of Lucy's images were shortlisted for the
Royal Photographic Society's
International Photography Exhibition 161.
Prints are on Fotospeed fine art paper and available via
PHOTOGRAPHS/BOOK
, and Lucy is also represented by
Watermark Gallery
.
Feel free to
CONTACT Lucy or
or
sign up here
for occasional news and exhibition details.
"Great photography requires devotion to subject matter.
And yet you must also develop the craft that enables you to 'channel' your thoughts, feelings, ideas, and impressions of your subject directly through your camera.
Lucy Saggers is such a photographer, a modern visual poet whose images give light to the people she knows and loves in the village landscape where she lives."
Joe Cornish, 2018